What Others Are Saying
Family Music Theatre has established itself in the Dallas/Ft. Worth area as one of the premiere theatres and production houses. It has consistently presented stunning art for almost three decades, and proudly continues training up some of the most talented directors, singers, musicians, actors, and support teams in the country.
Below is a sampling of some recent reviews, testimonials, and stories from our cast members, patrons, and the media
---
MEDIA REVIEWS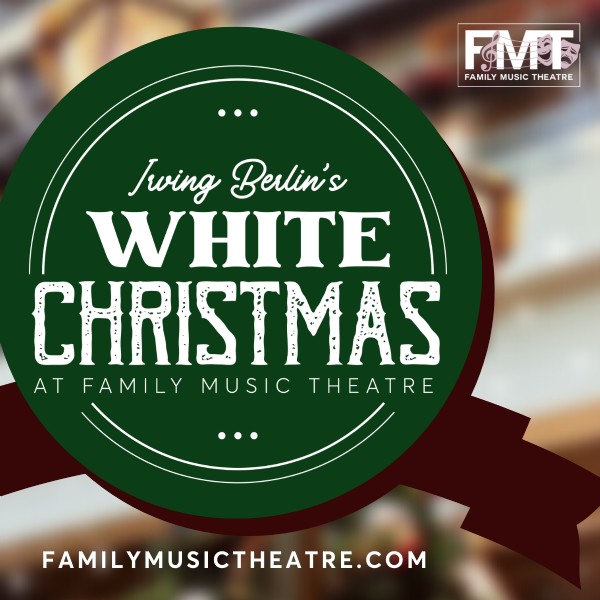 WHITE CHRISTMAS - DECEMBER 2022
Reviewed Performance: 12/3/2022
Reviewed by Chris Hauge, Associate Critic for John Garcia's THE COLUMN
Irving Berlin's lovely little song "Count Your Blessings (Instead of Sheep)," originally heard in the 1954 film "White Christmas," always inspires me to do my inventory of the many people and things I am truly grateful for. Let's see. There is my wife (though I often drive her crazy), our cats (though they always drive me crazy), my health, our sturdy and comfortable house, and I must not forget this one, the Family Music Theatre's concert presentation of the stage musical "Irving Berlin's White Christmas," now playing at the New Vida Center through December tenth. I am so thankful that Alice and I had the opportunity to experience a production that is so full of happiness and makes you feel you and your loved ones are in the middle of your own joyous white Christmas.

The success of the song "White Christmas" is the main reason for the 1954 movie musical starring Bing Crosby and Danny Kaye, having originally been suggested by Irving Berlin to Paramount Studios in 1948 as a vehicle for Bing Crosby and Fred Astaire. Originally written for the 1942 musical Holiday Inn featuring Crosby and Astaire (for which it won the Academy Award that year for best original song), Crosby's recording became a massive success and is still regarded as the top-selling single of all time. The Crosby/Kaye movie became the highest-grossing film of 1954 and earned an Academy Award nomination for "Count Your Blessings" as the best song.

The stage adaptation with a book by David Ives and Paul Blake premiered in St. Louis at The Muny in 2000. It was produced on Broadway from 2008 – 2009 and has toured throughout the United States, Canada, and United Kingdom. The musical uses songs that were written specifically for the movie "White Christmas" ("Sisters," "The Best Things Happen While You're Dancing," and "Snow" for example) and also pulls from Irving Berlin's extensive catalog of music ("Happy Holiday," "Let Yourself Go," "White Christmas," "I Love a Piano," "I've Got My Love to Keep Me Warm," and several others. The result is a wonderful trip down memory lane for older audience members and a happy introduction to one of our country's greatest songwriters for younger theatergoers. There are a few changes to the original material, but it takes nothing away from the movie or stage show. And it is great fun.

The storyline is tried and true. It begins in 1944 in Europe during World War II and a Christmas celebration for the troops is in progress hosted by Ralph Sheldrake (Deshawn Thomas). Performing are former Broadway star and now U.S. Army Captain Bob Wallace (Samuel Germany) and his partner Private Phil Davis (Andrew Isenberg), wishing them a "Happy Holiday" and leading the assembled soldiers in a heartfelt rendition of "White Christmas." The performance is interrupted by General Henry Waverly (Michael Lyons) who announces that he is being shipped back to The States for medical reasons and wonders aloud what will happen to all of them in ten years.

And voila, we are transported ten years in time when now successful show-biz partners Bob and Phil are making plans for their next Broadway show. They need a sister act to round out the production and go to a club to see the Haynes Sisters, Betty (Sydney Cornelius) and Judy (Anna Isenberg) perform. Phil is immediately smitten with Judy while Betty and Bob mix like oil and water. The sisters are going to Vermont for a gig at a ski resort and Phil, having decided that his partner needs to get together with Betty, tricks Bob into going to the resort. Upon arriving, the couples discover two things. There is an unexpected heat wave, and all the guests at the inn have canceled due to the lack of snow, and the ski resort is owned by former General Henry Waverly, who longs to be back in the Army, and is on the brink of bankruptcy. Bob and Phil decide to move their Broadway show to the barn on the grounds of the resort and invite the entire squadron from the war to show up at the hotel to help out "The Old Man" General Waverly and save the day. Add romantic complications, a nosy clerk and ex-vaudevillian Martha 'the megaphone' Watson (Sharon Balthrop), a precocious little girl named Susan (Chloe Balthrop), and various actors and dancers, and we're off.

The setting is simple yet effective. On the back wall is a huge Christmas tree. In front of that is the orchestra across the back, led by conductor and co-director, Dr. Sam Germany. The vocal ensemble is in front of the band leaving ample room at the front of the stage. While this is bare bones in terms of set pieces, there are enough well-done singing and dancing production numbers to please even the most hard-core musical connoisseur. The choreography by Stacia Woodlan covers the gamut, from ballroom elegance (as in the wonderful "The Best Things Happen While You're Dancing"), to the moody contemporary solo movement ("Love You Didn't Do Right by Me"), and on to full-out tap numbers ("Let Yourself Go" and "I Love a Piano"). Co-directors Dr. Sam Germany and Camille Russo keep the proceeding going at a quick pace and have allowed their cast to shine to the fullest. Costume designers Esther Keys and Rebekah Hendrick have provided the proper period and have artfully used simple pieces to effect costume changes (I do wish to extend credit for the lovely gown for the character Betty's debut at 'The Regency Room.').

The cast seemed to be having so much fun performing this work. Samuel Germany is so comfortable playing the character of Bob Wallace, he radiates warmth and charm, and his singing is sincere and engaging. As Bob's partner, Andrew Isenberg embodies Phil's wiliness (without coming across as self-centered) and his talent. Two numbers in particular, "The Best Things Happen When You're Dancing" and "I Love a Piano," show off Mr. Isenberg's skill as a singer and dancer. When working together, Mr. Germany and Mr. Isenberg have the ease and comradery that a veteran performance duo would have, with hand gestures and head nods giving wordless encouragement to each other as they perform. They make for a very appealing team.

Sydney Cornelius and Anna Isenberg give us the Haynes sisters, Betty and Judy, and are more than a match for Bob and Phil in the charisma department. Together they do a great job of winning us over in the number "Sisters." But each actress is strong in her own right. Ms. Cornelius has a lovely singing voice (given several chances to shine, especially in "Love You Didn't Do Right by Me," and the reprise of "How Deep is the Ocean"), and her feelings for Bob seem genuine and deep. Ms. Isenberg's Judy is bubbly and fun. Aside from the number "Sisters," some of her memorable moments are with the character of Phil, played by Andrew Isenberg (Isenberg? Do you think married, maybe?). Her singing is excellent and her dancing elegant.

Michael Lyons is appropriately gruff as General Henry Waverly. The busybody Martha Watson is ably played by Sharon Balthrop, possessing an Ethel Merman-like voice that takes us by surprise when it emerges. Chloe Balthrop gives us the bookish Susan who becomes drawn to the world of show business and erupts into a brassy and memorable reprise of the song "Let Me Sing and I'm Happy." Ethan Gebauer is appropriately laconic as the Vermonter Ezekiel Foster who turns 'Ah-yup' into its production number. The character of Ralph Sheldrake is given the appropriate amount of show biz pizzazz by Deshawn Thomas. Also, Kudos to everyone in the vocal and dance ensembles. Thank you for your work and dedication.

So, if you're worried, and you can't sleep, you could count your blessings instead of sheep. And one blessing you can add to your list is Family Music Theatre's lovely production of "Irving Berlin's White Christmas." Please check it out. "…and may all your Christmases be white."
RAGTIME - JULY 2019
REVIEWED BY STACY UPTON, ASSOCIATE CRITIC FOR JOHN GARCIA'S THE COLUMN
Family Music Theatre's mission is "to provide top quality musical theatre entertainment always guaranteed safe for the whole family." Judging by the excellence of their huge production of "Ragtime" this company has hit that mark and exceeded it. The production was top-notch in both performance – the starring voices on display were uniformly delicious, the dance numbers crisp – and in execution with astonishingly rich costuming, a professional set and lighting that met the needs of the giant ensemble cast. Hundreds of functional hanging Edison bulbs from the ceiling were a visual delight. The ensemble consisted of over 70 folks of all ages and ethnicities hitting their marks, full-throated singing for the wonderful numbers, dancing, and in general being all in, fully embodying whatever character they happened to be playing – immigrants, Harlem denizens, rich folks on the hill, steamboat captains, or historical figures such as Harry Houdini, Booker T. Washington, or one of the first celebrities known more for scandal than for talent, Evelyn Nesbit.
In many ways it was the ensemble that was the star of this show. Ranging in age from a baby just months old (a third-generation performer) to people with many decades to their credit, this multi-racial group gave the performance their all and then some. There are long sections of this musical where the entire ensemble sat on either side of the stage, watching the main action center. They were all perfectly still, perfectly involved in the scene unfolding above them on the multi-level set. That attentiveness is the mark of great direction and choreography of course, but it indicates something more – that love for the show was been instilled, and is willingly given. To see so many people being "for" each other was a remarkable experience. The ensemble were a unit to be sure, but each performer was also an individual character, holding their wrists just so as a white-clad debutantes, bodies fully engaged as angry protestors, or clinging to shawls and children as frightened immigrants desperate to set foot on American shores. What a delight.
"Ragtime" is set in at the dawn of 20th-century America, and tells intersecting stories of the changing economic and social times. The show cleverly uses historical figures of the time to root us in reality, but the stars of the show are designated as archetypes – Father, Mother, Little Boy and Younger Brother for a wealthy Anglo family, Tateh and Little Girl representing the "huddled masses yearning to breathe free," and Ragtime musician Coalhouse Walker standing for the educated and rising middle-class African-Americans. Set in the volatile melting pot of New York City, these characters fight for the values they hold dear, and in the process find and lose love, and some lose their lives.
This show does not shy away from confrontational issues such as race and discrimination. Indeed, it assails them head-on. It is disturbing to realize that we are still, in 2019 experiencing these same issues. It makes Ragtime a sadly relevant musical. It also contains hope, however, and that is where this production chose to focus – that courage and standing up for one's beliefs can lead to a better future, if not for our generation, then for the generations to come. That love will be found, and given, and that race differences can be transcended. That was the message of this production, and also seems to be the message of Family Music Theatre, for which they are to be heartily commended.
All the featured leads had astonishing voices -- indeed Broadway-caliber is not an overstatement. Christion Dior Draper as Coalhouse Walker Jr. was in particular outstanding. His buttery rich voice soared effortlessly above the ensemble in rousing numbers such as "Getting Ready Rag" and "Ragtime." His duets with the stunningly beautiful Sydney Cornelius as the love of his life Sarah were show-stoppers. He also had range as an actor, allowing us to feel the pride, pain, and frustration of a man trying to live his life, but stopped by the social mores of the times and the color of his skin. He was mesmerizing every moment he was on stage.
Similar praise goes to Sydney Cornelius. Her gorgeous voice soared in her moving solo, "Your Daddy's Son," and had us all crying. Her performance as a broken single mother who finds love again was a delight, and the duets with Draper in "Wheels of a Dream" and "Sarah Brown Eyes" were highlights of the show. The couple was choreographed to sing and dance 'together" even after Sarah's death, and there was not a dry eye in the house during that special moment.
The nuanced performance of Heather Morrill as Mother was exceptional. In many ways she is the moral compass of the show, showing compassion when her status in life dictated she should not. Morrill's performance and voice were excellent, you simply loved her character and rejoiced when at the end she finds true love with Tateh, portrayed by excellent actor Samuel Germany III. He also has a fine, clear voice -- nothing but top-notch work here, but it is his acting that really brought this immigrant from "the old country" to life and captured our imagination. His passion for keeping his daughter safe, to rise up and be successful in American were wonderfully portrayed, as was his quiet love for Mother.The role of Father is not a showy role, and one that has the difficult position of standing in for the old ways of doing things… although in not quite as pithy a way as Grandfather, which was played with zing by Jeff Balthrop. David Curry did an excellent job of keeping Father relatable and leant his excellent voice to many numbers. We can not let this family go by without a high-five to young actor James Bishop as Little Boy who made the most of every forthright line. He was a real pro. Younger Brother played by Jacob Clinton was another solid performance, with the actor conveying a wistful yearning for meaning in his life, until finding his way to becoming a revolutionary activist for social justice. This was another very professional performance by a young man who could be on his way to great things in the musical theatre world.
Other standouts include the fiery performance of Sharon Balthrop as Union organizer and Socialist reformer Emma Goldman. Her vocals were clear and biting just as they needed to be, and her performance compelling. I'd join her in a fight. Both Ana Berthelsen as Evelyn Nesbit and Mark-Andrew McMeans as a straight-jacketed Harry Houdini were fun to watch, and fully embodied their characters. Stalwart and dignified Booker T. Washington was expertly rendered by Jonathan Drake. Little Girl was played with pathos and a great smile by Mary Bartke. Valizander Banks broke our hearts as she mourned the passing of her friend Sarah next to her coffin. Her exceptional voice and performance of "Til We Reach That Day" was one I will remember for a long time. I must also mention that the entire audience said "aww" with delight at the same time when adorable young Brynn Taylor took the stage at the very end of the show.
To move the large number of singers and actors around the set took an outstanding director. Dr. Sam Germany is to be applauded for his vision for this show, and the seamless way he allowed the story to be told, and his care in allowing his ensemble to create within his crafted movement. In particular the opening number "Ragtime" with three clearly delineated ethnic groups eventually mingling and struggling to find their way perfectly depicted the melting pot of NYC. His crush of immigrants making their way to our shores was equally moving, in "Shtetl Iz Amereke." The musical numbers were all professionally choreographed by Stasia Woodlan. Of particular delight were a Ragtime dance in the Tempo Club and a dancing baseball sequence in the second act.
As always it was a plus to have a live orchestra playing this remarkable score, and the musicians didn't hit a wrong note. This was a professional show through and through and the matinee audience was on its feet applauding the cast and orchestra before the curtain call even began. This was Family Music Theatre's last production (its 69th!) in the lovely thrust theatre on the campus at Cedar Valley college. An announcement was made at the top of the show that this extraordinarily gifted and dedicated group of production staff and performers intends to continue their excellent productions moving forward and will be seeking a new home. Any space would be lucky to have them, and this reviewer can't wait to see what delightful musical they do next, wherever in the DFW area that may be. Congratulations to everyone on an outstanding show!
NEWSIES - OCTOBER 2018
REVIEWED BY CHRIS HAUGE, ASSOCIATE CRITIC FOR JOHN GARCIA'S THE COLUMN
Extra! Extra! Read all about it! Family Music Theatre in Lancaster gives boffo production of "Newsies-The Broadway Musical". Great singing! Breath-taking choreography! Tremendous energy from all involved! Get yourself a ticket to see it now! Be there or be square! Extra! Extra!
Now that I have deployed the required cliché for a show based on the newspaper business to get your attention, it's time to flesh out the body of this article and explain all the hoopla. First, I was unfamiliar with the company and it has been producing shows for 26 years. That has been the wonderful thing about this position. I am introduced to talent that has been thriving right under my nose. And what a wonderful way to be introduced to Family Music Theatre.
"Newsies-The Broadway Musical" is an adaptation of the 1992 film "Newsies", starring Christian.
Bale, David Moscow, Bill Pullman, Robert Duvall, Ann-Margret and directed by choreographer Kenny Ortega. The story is based on historical events in turn-of-the-Twentieth Century New York City. Incited by a raise in the cost paper carriers paid for the papers they sold, the newsies, primarily boys with some of them orphans and others helping to support their families, moved to form a union and strike against the newspaper companies. This pitted them against all the newspapers in the city, including those owned by William Randolph Hearst and Joseph Pulitzer. The plot of the movie and the musical throws us into a David versus Goliath battle and makes it very clear who the audience should root for.
We are thrown onto the streets of old New York joining Jack Kelly (Jacob Clinton) and his disabled pal, Crutchie (Mark-Andrew McMeans) and their fellow newsies and they try to make a meager living selling 'papes' to the public. On our journey we meet aspiring journalist Katherine Plumber (Abigail Holmes) who helps publicize the plight of the paper carriers, provides a romantic interest for Jack, and ends up being a both a blessing and a curse to the cause (emphasis on blessing). Helping their family, Davey (Eli Lackey) and his brother, Les (Connor Moss), become newsies and become pupils of the super confident veteran, Jack. And there are the countless other paper carriers who find their wages in jeopardy from the rich and powerful. Will right overcome might? Will Jack and Katherine get together? Will all end happily?
While the answers to these questions are not hard to guess, Family Music Theatre makes the journey to the resolution fun and emotionally satisfying. The energy projected by every member of the cast is tremendous. There is a joy exuded that is wildly infectious. Dr. Sam Germany has assembled a wonderful cast and has paced the show beautifully. We feel the joy and the pain of these characters and, because the performing space at Cedar Valley Community College, puts the audience and the cast close together and we get swept up into the story.
The set is a series of scaffolding which allows multiple levels and allows us to easily travel through the world of the paper carriers. Using various set pieces, we go from newsies square to a Delicatessen to the gilded office of Joseph Pulitzer to a New York music hall with ease. My hat is off to the technical director, Dee Longino, Cedar Valley College theatre specialist, Michael Lyons, and set construction coordinator for the seamless integration of lights and set. It all adds an extra touch of magic to the proceedings.
An instrumental ensemble provides a strong background for the singing and choreography. Stacia Woodlan gives her cast dances that soar and at times seem to want to burst the boundaries of the theatre itself. Whether rallying the troops or providing a touching compliment to an intimate moment, Ms. Woodlan's choreography is simply wonderful.
As leader of the strike, the character of Jack Kelly must have wagonloads of charisma and Jacob Clinton has that and a bit more to spare. He is a charming singer and when he begins to gather the newsies around him, his power is such that the audience wants to join him onstage to fight for the cause. Mr. Clinton shows us the emotional arc of his character with ease and grace and when his character is backed up against a wall we can feel his anguish and applaud his resolve. His roommate in his rooftop 'penthouse' is Crutchie, played with all the confidence in the world by Mark-Andrew McMeans. The part could dissolve into pathos, but Mr. McMeans gives his character grit and neither his bad leg nor his bleak circumstances will defeat him. He also provides a well-deserved come-uppance to one of the more despicable people in the play with swagger of someone who will always come out on top.
Abigail Holmes plays a part that could be the obligatory romantic interest, but she makes the character of Katherine so much more. With a lovely voice and great self-assurance, Ms. Holmes gives us a woman seeking to break free of societal restrictions. As a reporter she becomes the voice of the strikers and as an equal she comforts and encourages Jack. Ms. Holmes enters our hearts and stays there through the show.
As the newcomers to the world of paperboys, Eli Lackey and Conner Moss as Davey and Les, end up helping the cause. Mr. Lackey's Davey ends up being the intellectual heart of the strike and provides the words Jack uses to inspire the others. Davey may not want the spotlight, but he has the resolve to see what has been started to its conclusion. Mr. Lackey sings very well and is especially stirring during the number "Seize the Day". Mr. Moss is a natural comic actor and his Les is all angles and facial expressions. When he learns to harness all his potential, he will be a comic force to reckon with. Samuel Germany makes a wonderfully wicked Joseph Pulitzer and uses his voice as a subtle weapon with which to overcome his perceived foes.
And to all the actors of this show, I wish to express how much your joy and energy impressed me. You all got the chance to shine at various points of the night and none of you missed the chance to make the most of it. I am always amazed at the dedication and work that a cast expends to put on a show and you gave the audience and myself an unforgettable experience. Thank you for the joy and inspiration you give in this production.
So, stop the presses and put in the following headline. "Family Music Theatre scores big hit with "Newsies-The Broadway Musical". Come one, come all!
---
PATRON TESTIMONIALS
"Every production I've had the chance to attend has been simply PHENOMENAL!!! Kudos to everyone!!! The cast, the band, the arrangements, the direction, the staging, the vocals, the EMOTION….!!!!! OMG!!!!!! EVERYTHING AND EVERYONE!!!! FANTASTIC!!!!!! All Love to You ALL!!!!!"
JASE G.
---
"My Great Grandchildren have grown up coming to your theatre productions. The oldest is now 21 and she still likes to come with me. We never wanted to miss any of them, because we knew that they would be wonderful. I have always been amazed at such great talent we have in this area. We plan to keep coming to your plays!!"
BONNIE
---
"The performers put their whole heart into what they do, and it shows in the productions. We have never been disappointed in any production we have seen."
RICHARD JOHNS
---
"Absolutely fabulous!!! I am so glad that I finally found this Music Theatre"
TONI STEWART
---
"Stellar acting, dancing, singing, and directing! You won't find higher quality, more entertaining, more uplifting shows anywhere else!"
NAOMI RENEE
---
"Family Music Theatre allows you to enjoy NYC Broadway style entertainment by being able to bring your entire family to see each show!!!"
NICHOLE PRUITT
---
"The musical productions at FMT are always outstanding! I love that the music/orchestra is live (vs recorded) and that they are local musicians! Keep up the great work!"
CAREM HACKFELD
---
"Great production! Excellent costumes! This was an amateur production, but it definitely wasn't amateur performing! Great job by all big and small!"
SIMONE CAIN
---
"Such a wonderful place for great, safe entertainment for all"
LINDA CORRAO
---
"I'm always impressed with the quality and talent this group has!! Keep it going!"
TODD J WRIGHT
---
"Always a wonderful experience when I bring my family!"
AMY FLOWER-MABIE
---
"The name speaks for itself."
KELLIE FREEMAN
---
"THE BEST SHOWS EVER!  GREAT GROUP OF TALENT AND DR. GERMANY IS AMAZING!"
KATHY LARGE
---
CAST & FAMILY
At FMT, I found my voice. I was challenged to step outside of myself. To take daring risks and give myself permission to simply "be." I was, and still am to this day, surrounded by a theatre family who supports me no matter what. FMT is all about family and community. Our family loves without thinking twice. It's a place where we are challenged to be better at what we do and to do so with excellence. When I think of FMT, I think of the place where I discovered who I was and where I developed meaningful relationships that will last a lifetime!
ABIGAIL HOLMES
"FMT is a place where I feel a sense of relief from the outside world. It has provided me a secure place to come and truly be myself."
CODY SLUSHER
"Dr. Germany is like a father to all of us. He directs us and tells us how he wants the sound to be … and demands it from us. He also provides discipline when we need it. That's what it is."
ALEX LOPEZ
"FMT is family to me. Everyone is there for each other in every moment, every step along the way. I never felt like an outsider at FMT. I was able to walk in and make close relationships from the start …"
ETHAN THATCHER
"It really does represent family, because I found a place where everybody is very different. We all have different backgrounds. We have different things we do and believe, and feel and think; but it's very warm and accepting. It's a place you can put yourself out there and do some crazy things, and not be embarrassed because everybody there is in the same place and is so loving and kind."
JOHANNA THATCHER
"FMT is family because we're all there for each other. When someone falls, it's not just one person that runs to them, it's everyone. It's always there for you, even when you're not there for yourself. You need that push and that help; and FMT gives me that"
JEREMY HAMILTON
"Dr. Germany often says that once you're in an FMT show, you're family. It's absolutely true!"
ISMAEL ORTEGA
"FMT is my family and my safe place. If I'm in a bind, they're the people that I call. They are the people that I know will support me and listen to me if I'm hurting. If I'm excited about something they will be excited about it with me. They are my family and I love sharing moments with them. I love being a part of that. I do. I feel like I'm a PART of something. It's not just like a job or a hobby that I do. It's a group that I feel like I am a part of that – and it's really special."
SARA JOE MCMEANS
Contact Us
Generations Institute for the Creative Arts
P.O. Box 381082
Duncanville, TX 75138
469.278.2655
Generations Institute for the Creative Arts is a tax-exempt 501(C)(3) nonprofit organization.