Footloose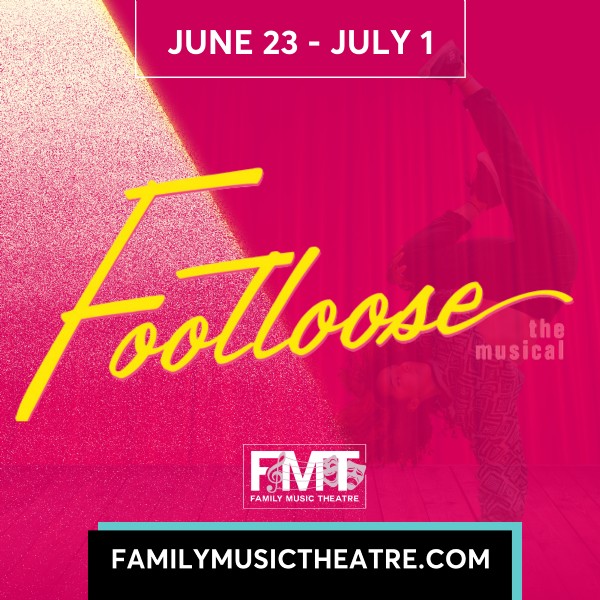 Family Music Theatre + CHHS Fine Arts Present:
FOOTLOOSE
PERFORMANCES:
June 23-24-25:
Fri-7:30 pm, Sat-1:30 pm and 7:30 pm, Sun 2:00 pm
June 30, July 1:
Fri-7:30 pm, Sat-1:30 pm, and 7:30 pm

CREATIVE TEAM:
Director: Dr. Sam Germany
Co-Director: Melissa Waters
Choreographer: Tianta Harrison
Stage Manager: David Johns
Costumer: Bethany Kennedy
Props: David Curry
When Ren and his mother move from Chicago to a small farming town, he is prepared for the inevitable adjustment period at his new high school. But he's not prepared for the rigorous local edicts, including a ban on dancing instituted by the local preacher, who is determined to exercise control over the town's youth. When the reverend's rebellious daughter sets her sights on Ren, her roughneck boyfriend tries to sabotage Ren's reputation, with many of the locals eager to believe the worst about the new kid. The heartfelt story that emerges pins a father longing for the son he lost against a young man aching for the father who walked out on him.
To the rockin' rhythm of its Oscar and Tony-nominated Top 40 score, augmented with dynamic new songs, Footloose celebrates the wisdom of listening to young people while guiding them with a warm heart and open mind.

OUR CAST:
Ariel Moore – Heather Howton
Rusty – Kristia Golightly
Urleen – Jaida Pruitt
Wendy Jo – Kele Nwanju
Ren McCormack – Dauri Poole
Willard Hewitt – Ethan Bishop
Garvin – Isaiah Jefferson
Bickle – Quinlyn Hunt
Jeter – Larry Alexander
Chuck Cranston – James Bishop
Travis – TBA
Lyle – TBA
Rev. Shaw Moore – Ismael Ortega
Vi Moore – Rebekah Welser
Ethel McCormack – Nichole Pruitt
Coach Roger Dunbar – Jeremy Hamilton
Eleanor Dunbar – Kelsi Peterson
Wes Warnicker – Ethan Gebauer
Lulu Warnicker – Sarah Choate
Cop – Michael Lyons
Betty Blast – Tianta Harrison
Principal Clark – Elizabeth Dawson
Cowboy Bob – Christion Draper
Band Member 1 – Michael Lyons
Band Member 2 – TBA
Cowgirl – TBA
Adult Ensemble
Sarah Choate
Abigail Craven
Elizabeth Dawson
Christion Draper
Ethan Gebauer
Robyn Gebauer
Jeremy Hamilton
Tianta Harrison
Michael Lyons
Kelsi Peterson
Raven Pruitt
Jennise Streaty
Teen Ensemble
Ethan Bishop
Larry Alexander
Jaden Devezin
Vitoria Gnutzmann
Keiron Gordon
Jaylen Hamilton
Trinity Harris
Requethia Hodge
Quinlyn Hunt
Jenna Jacobsen
Isaiah Jefferson
Lathan Kidd
Naji Muhammad
Joanelle Ngassa
Kele Nwanju
Craig Patterson Jr.
Jaida Pruitt
Raven Pruitt
Nevaeh Richardson
Egypt Roberts
Kaelyn Thompson
Maria Luiza Viana
Diedrick Yancey
Dance Ensemble
Jaden Devezin
Keiron Gordon
Jaylen Hamilton
Quinlyn Hunt
Jenna Jacobsen
Naji Muhammad
Kele Nwanju
Jaida Pruitt
Nevaeh Richardson
Maria Luiza Viana
Diedrick Yancey