Auditions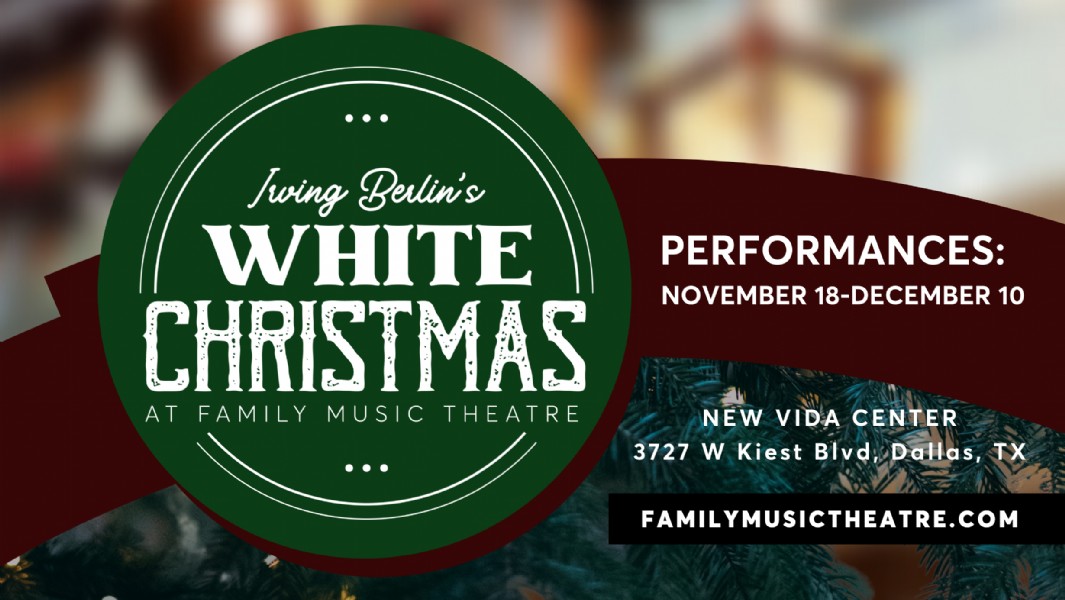 AUDITIONS FOR WHITE CHRISTMAS
Music and Lyrics by Irving Berlin
Book by David Ives and Paul Blake
Based Upon the Paramount Pictures Film Written For the Screen by Norman Krasna, Norman Panama and Melvin Frank
Presented in concert, White Christmas will feature a live orchestra, top-tier vocal and dance ensembles, and Christmas spirit that will make you feel as though you stepped straight into the Columbia Inn. Based on the classic 1954 movie by Paramount Pictures, our concert-style production is sure to warm your heart. So put on your Christmas best and join us for a night of golden age entertainment!
Veterans Bob Wallace and Phil Davis have a successful song-and-dance act after World War II. With romance in mind, the two follow a duo of beautiful singing sisters en route to their Christmas show at a Vermont lodge, which just happens to be owned by Bob and Phil's former army commander. With a dazzling score featuring well-known standards including "Blue Skies," "I Love A Piano," "How Deep Is the Ocean" and the perennial title song, White Christmas is an uplifting musical worthy of year-round productions.
VOCAL/GENERAL DANCE AUDITIONS: 
Friday, Sept 9 – 7:00pm
Friday, Sept 16 – 7:00pm
Location: New Vida Center
3727 West Kiest Blvd, Dallas, TX  75233
DANCE CALLBACKS:  Saturday, Sept 17, 9:00am
CALLBACKS FOR PRINCIPAL ROLES: Saturday, Sept 17, 10:30am
Rehearsals Begin: Monday, Sept 26 - 7:00pm
9 Performances: Nov. 18-19, Dec. 2-3, Dec. 9-10
Audition Requirements:

Sing best 16 bars (or approximately 1 min) of Broadway song

.

Accompanist provided. Please bring sheet music.  No soundtracks.  A capella NOT preferred. 

Script/Vocal Sides to be used for callbacks will be available online by August 29. 
Concert style, minimalist staging with full ensemble dance numbers (loads of tap!)

We are looking for small top-tier vocal and dance ensembles. The dance ensemble will be required to sing at the audition and in the show, but will mainly be responsible for movement during our production. Due to the style of our production, members of both ensembles can most likely expect a lighter rehearsal schedule.

Leads will dance according to the character.
Great classic Irving Berlin songs! 

White Christmas, Blue Skies, Sisters, Count Your Blessings, Let Yourself Go, I Love a Piano, The Best Things Happen While You're Dancing, Snow, Happy Holiday, How Deep is the Ocean, Love and the Weather, Let Me Sing and I'm Happy 
Cast Requirements:

  LARGE cast, with many featured roles  

Principal Roles:  4 female (1 child)/3 male

Large Adult/Teens Ensemble required (25+).  ALL ages/ethnicities desired! 

Strong singing/dancing

, character acting (many additional ensemble and feature roles).

Separate vocal and dance ensembles will be selected. 

1 Child needed: Susan Waverly
Come dressed to move for dance audition with appropriate footwear (tap/jazz shoes).  

Auditionees must guarantee

no conflicts

in final rehearsal period (Nov. 7-17) and all performances.  
All

cast members will be required to complete 16 hours of assigned workday duties (set construction, costume, marketing). 

FMT is a community theatre, where we all participate in the behind the scenes making of the production in some way in addition to rehearsals and performance.  Participation will be expected of all those cast.

CLICK HERE FOR THE CHARACTER BREAKDOWN
CLICK HERE FOR SIDES BY CHARACTER
White Christmas Is presented through a special arrangement with Concord Theatricals. All authorized performance materials are also supplied by Concord. concordtheatricals.com